What is Full Height Turnstile and How Does it Work?
Full height turnstile are the turnstiles that cover the floor to roof with a manual rotating barrier. They work similarly like a rotating door, with the difference being that they allow one individual in turn by locking after an individual passes into the turnstile. These turnstiles come with access control so they are intended to offer solid security since it is not easy for unauthorized entrants to crawl under the turnstile or climb over the turnstile.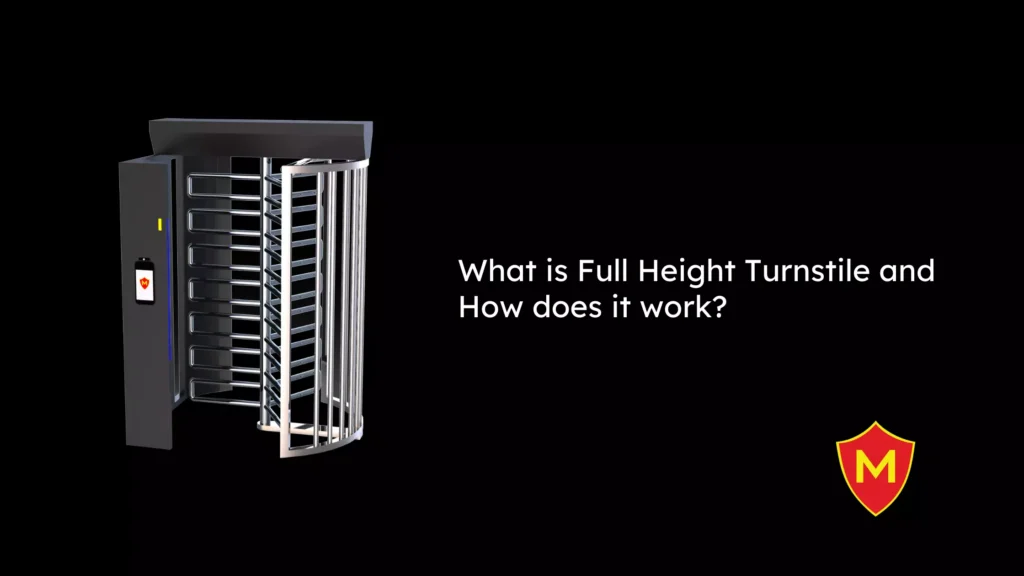 Full height turnstile can be utilized for single way or bi-directional purposes upon the requirement. Our Full Height Turnstile comes in Stainless Steel. Full height turnstile has different passage widths like 30″ right to 48″ to permit entrants if they carry large backpacks and tools. Our full height turnstiles also come with combining two turnstiles into one full height turnstile. Regarding your premises requirements, we can install the full height turnstile which can turn your building entrance into an impenetrable one. You can check our full height turnstiles here.
Benefits of Full Height Turnstile:
Help to control the flow of people in public places like airports, railway stations, factories etc.

The speed of the arm rotation can be controlled if the arms are pushed so quickly.

Full Height Turnstiles can come with access control systems like Face scanner, fingerprint scanner which secures from unauthorized entrants, there won't be any place for human errors.

You won't require more additional manpower to monitor the entrance.

The Full Height Turnstiles are made of top-quality stainless steel for the long run.

Manual access is possible to the turnstiles during times of power failures and other emergencies.
Full Height Turnstile are utilized where high-security is required. Our Full Height Turnstile are introduced in exceptionally classified offices like banks, detainment facilities, guard regions, server farms, power plants, and treatment facilities. They are regularly enhanced with our Magtech full stature Turnstiles. Our Full stature doors think of the impediment access and crisis access in the event of any terrible episodes. Full height turnstile can be fitted with gate security sleeves for usability, assurance, and protection.
Magtech Group, Full Height Turnstile in India will help you to install Full Height Turnstile in your premises and enhance your security. We provide top-class security equipment like baggage scanner, door frame metal detector, swing barrier, etc. in India. You can contact us and learn about how our security systems can make your premises invulnerable.