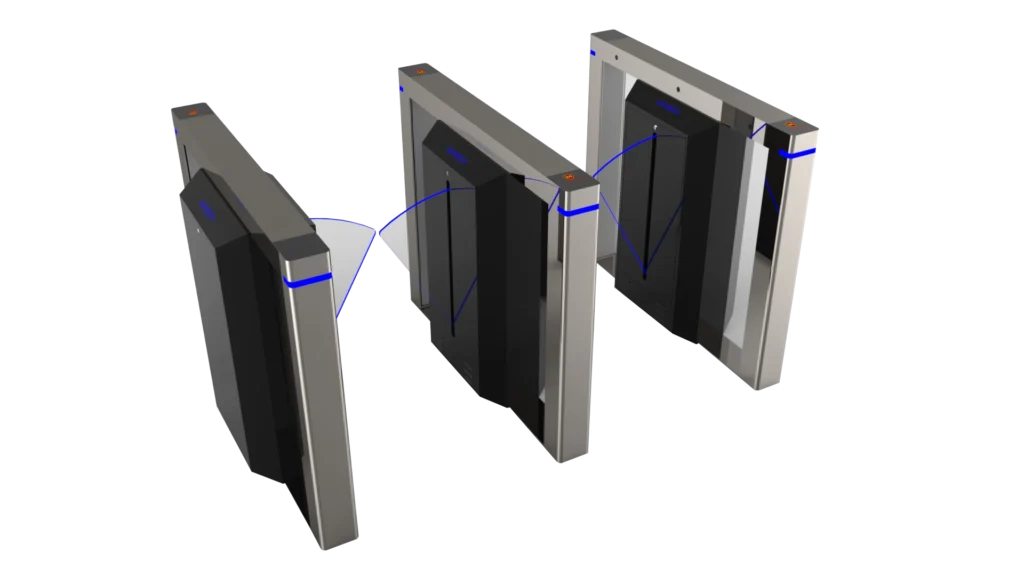 Magtech Flap Barrier is the mechanical gates you will find at the entrance of offices, stations, airports and also in many other places. The flap barrier is different from the other two barriers. It has two visible wings that work in two-directional movements with the help of a sensor. It also helps to prevent unauthorized entry. 
It can also be integrated with card access, fingerprint and scanner access. The Tri-color LED indicator specifies the status of the flap barrier (GREEN – Access grated, RED – Intruder, BLUE – Standby mode). Flap Barrier's common uses are pedestrian queue management, restricting unauthorized entrants etc. It can also be integrated with access control solutions like Biometric, fingerprint or Access card systems to become proof of attendance and to check the authorized entrants. By taking note of authorized IN/OUT monitoring and prohibiting unauthorized entries, the flap barrier provides solid security to your premises.
In traditional management, it requires a large amount of manpower and material, a large amount of work done with very low efficiency resulting in the traditional management model. However, with the help of the Magtech Flap barrier, these types of problems won't occur, and everything will take note of itself when the person enters the premises. Magtech Flap barrier opens a new era for scientific management. Our flap barrier's elegant design creates additional security which stops threats to enter the premises. It makes them apt for applications like government buildings, museums, railway stations, amusement parks, industries, etc.
Check out "How Flap Barrier Works?"