Why Security Systems are important for your business?
Whenever it comes to business, security is necessary. Magtech Security Systems have saved many from the threats in the area of business environments as well residentials. With the help of Electronic security solutions by CCTV cameras, X-Ray baggage Scanners, Door Frame Metal detectors, Boom Barriers, Bollards people today tend to be fully protected.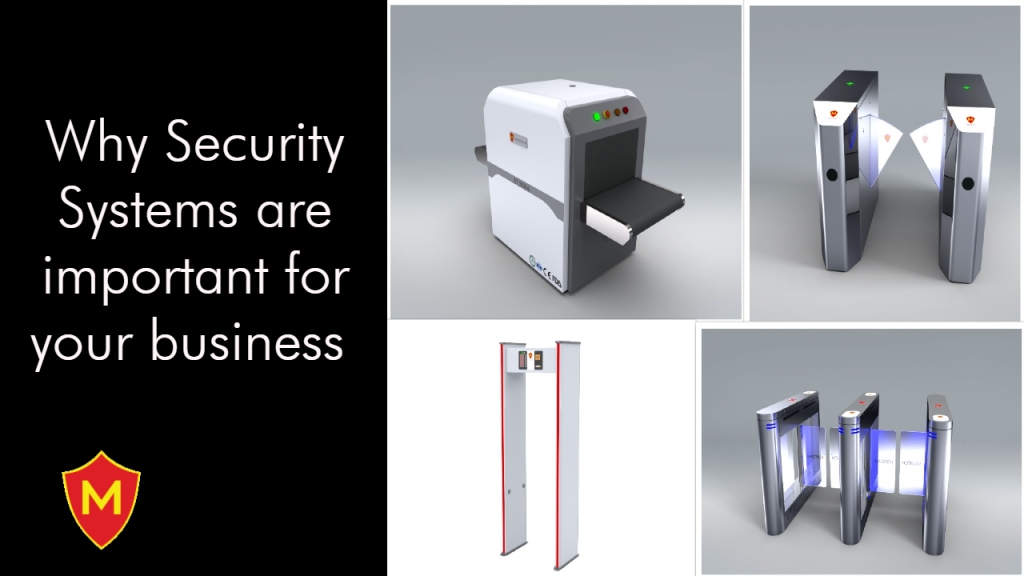 Reasons why you must have electronic security on your premises:
1. Protection of Assets
Electronic security systems are one of the vital prevention measures to protect your business assets such as money, furniture and even intellectual property under strict non-disclosure conditions. In short we say, electronic security will guard you from both external and internal theft.
One way to prevent fraud is to have evidence against it and CCTV Surveillance Cameras help to provide solid video evidence which plays a critical role .
2.Improves the safety of the workplace
Having an alarm system in your workplace will make employees think that they are safe throughout the day irrespective of their working shifts. X-Ray baggage scanner will help us to check the articles/baggage/luggage of people who are entering the premises. Scanners do trace the baggage for any kind of contraband, threats objects, liquids, high-density metals. 
The Barriers of things like Swing Barrier, Flap Barrier, Tripod Barrier help an industry, factory, IT parks, workspace to control the movement of people as well as trace and allow in the personnel who are only authorized to enter. Access control systems can be of any type, Facial Recognition, Bio-metrics, Proximity cards, QR code, Barcode and many more.
This brings peace of mind to an organization maintaining such control and getting rid of human errors.
3.Instant alerts in your devices
Modern electronic security systems can be integrated and accessed through multiple electronic gadgets such as computers, tablets or mobile phones. With the help of cloud systems, you can be aware of the situation whether you are at home, on vacation, or travelling. With help of quick security alerts on your phone, tablet, and laptop you can find out about the security breach instantly.
4.Better evidence
Electronic security systems like CCTV security cameras, access control systems, and security alarms can provide important evidence whenever a problem arises inside the workplace, regardless whether it is an internal or external break-in.
5.Value for money
Better to be early than sorry. It is best practice to spend some instead of losing more. Electronic Security Systems are value for money and give you peace of mind in aspects of safety and security.
6.Monitoring vulnerable areas
Closed Circuit Television (CCTV) Cameras may be placed in high risk areas. You can install these CCTV cameras in places that are vulnerable to theft or break ins.
People with bad intentions like to check out and target the vulnerable areas of your premises, such as those that are poorly maintained. It gives the perception that those areas are not well attended yet. These are the best viewing spots for them to monitor your business and CCTV security cameras will assist you and give you a clear view of that place while you are sitting in your cabin or house.
7. High-threat areas
In a place where threat levels are high in nature advanced solutions can be deployed to make a hindrance to the breach. Products like Under Vehicle Surveillance System – scans under-chassis of a vehicle, Full Height Turnstile – blocks entire passage, allows only authorized persons, Road Blocker – makes a deterrence for Heavy & High threat vehicles, Bollards – Retractable bollards that telescopes up and slide down into the ground making a deterrence. Tire killers – to tear down/burst vehicles tires making trouble by entering a drive-way wrong side.
If you are planning to install security equipment in your workplace then hold for a second, call Magtech Group, Security systems in Chennai. We are OEM (Original Equipment Manufacturer) and solution provider for security systems in your premises. We install the top-notch security equipment and upgrade your security to the next level.