18 Zone
Door Frame Metal Detector
A 18 Zone Door Frame Metal Detector is a metal detector fitted in a door to detect metal hidden by the person passing through this door. 18 Zone means it detects metals in 18 pinpoint zones. It be a complete protection for your premises entrance.
The LED bars on both door panels and the top of the control unit show auto Set, Micro Controller Based Operational Frequency, and sensitivity can be adjusted manually. Automatically counting In and Out passengers detects all types of Metals and, produces Audio/Visual indications for metal detection. Our 18 Zone DFMD is completely harmless for pregnant women and pacemakers.
Check out "How Door Frame Metal Detector Works?"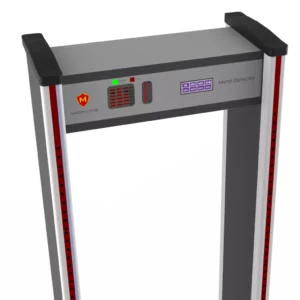 DFMD – 18 Zone

OD: 2220 x 820 x 520

ID: 2000 X 700 X 520
Images
Video
Specifications
Download
Images
Tab Content
Video
Specifications
Download